Meet Our Heroes
May 2, 2019
What does it mean to be an Alterna hero product? Whether you are looking for style retention and perfection, frizz-control, color-hold, volume, or heat protection for damaged hair, this lineup of hero products has something for you. For starters, each product in the CAVIAR Anti-Aging line contains highly potent ingredients, including our proprietary Age Control Complex® with black sturgeon caviar extract, to instantly provide healthier, more youthful-looking hair.
Allow our heroes to give your hair the life it desires, with help of CAVIAR at the heart of our formulas. Caviar is one of nature's richest sources of Omega-3 Fatty Acids, that helps to restore moisture, elasticity and shine to hair.
Hero of the Month
May
CAVIAR Anti-Aging Restructuring Bond Repair Leave-In Heat Protection Spray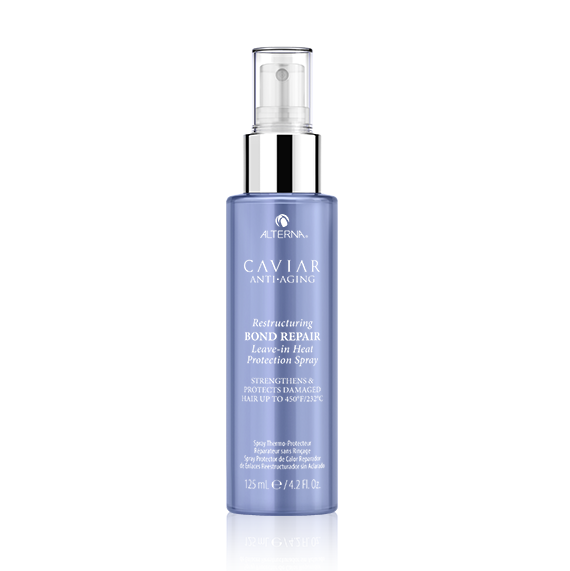 What it Does: Gives your hair the strength & vitamins it needs to combat heat and environmental damage. Restructuring Bond Repair Leave-in Heat Protectant Spray helps to seal the hair cuticle to repair and prevent damage while providing thermal protection up to 450°F/232°C*. Clinically proven to help strengthen and reduce breakage and split ends more than 99%*. Not to mention this product is packed with vitamins B5, B6, C, E and Biotin that help revitalize each strand, adding moisture and elasticity -- It's like green juice for your hair!
The Heat Protection Hero: A top hairstylist whose passion for health and wellness filters into every area of life-- including what they use on their own hair and on their clients.
Reach for this "Hero" when: Looking for vitamin-enrichment that strengthens and protects strands from heat and daily aggressors.
*Based on a clinical study vs. untreated hair
June
CAVIAR Anti-Aging Multiplying Volume Styling Mist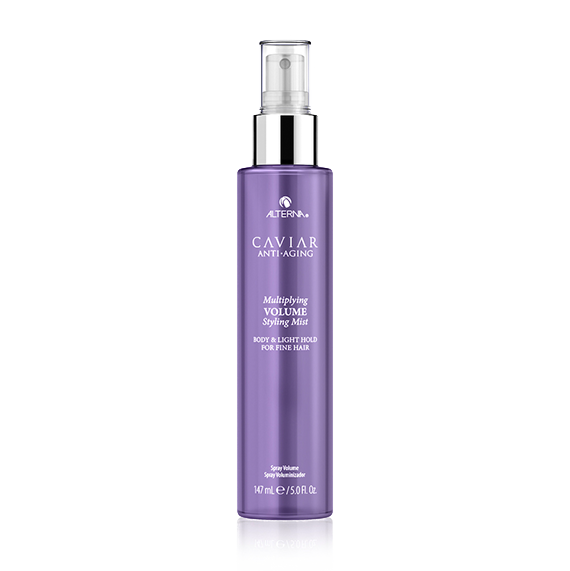 What it Does: The ultimate multi-tasker, Multiplying Volume Styling Mist helps to nourish, replenish and preserve the health of hair strands, while delivering more fullness and volume. This styler uses Marine Plumping Complex to create lasting volume from the roots to the ends with a touchable soft feel, flexible hold and shine. Clinically proven to instantly deliver more fullness and volume.**
The Volume Styling Mist Hero: An in-demand stylist whose own hair is their calling card. Fullness and luxurious volume are their personal hair goals and when they find a product they love, they become an evangelist, inspiring their clients and peers alike.
Reach for this "Hero" when: Wanting to create lasting volume from roots to ends that leaves hair feeling touchable soft without fear of deflating.
**Based on a clinical study vs. untreated hair when used a regimen with the CAVIAR Anti-Aging Multiplying Volume Shampoo and Conditioner
July
CAVIAR Anti-Aging Replenishing Moisture CC Cream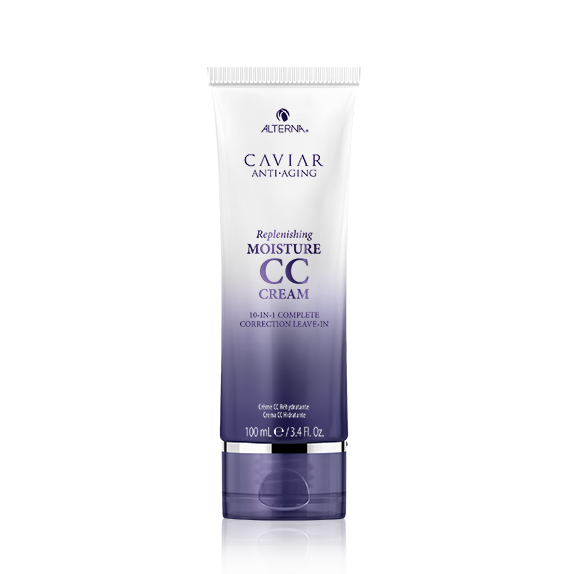 What it Does: A "complete correction" leave-in designed to address both treatment and styling concerns. With 10 benefits packed into one product, the Replenishing Moisture CC Cream provides: Moisture, Smoothness, Anti-Breakage, Light Hold, Manageability, Shine, Softness, Heat Protection, UV Protection and Strength. It can be used alone as a quick fix or as a foundation for the layering of other styling products.
The Moisture CC Cream Hero: A busy mom & career woman who juggles countless personal, business and family needs 24/7, 365!
Reach for this "Hero" when: You are looking for the assurance that 1 product can do it all! 10 benefits, 1 easy step for beautiful, healthy-looking styles. That's one thing checked off the to-do list!
*vs. untreated hair
August
CAVIAR Anti-Aging Infinite Color Hold Dual-Use Serum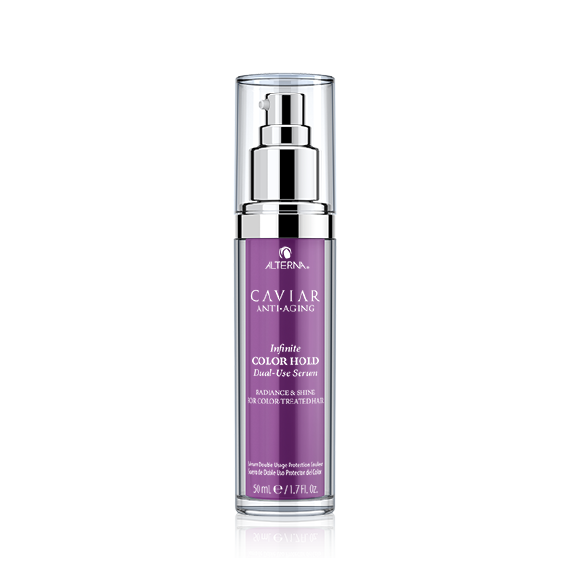 What it Does: Shine on with this powerful dual-use serum that helps to rejuvenate color and intensify shine. This versatile serum wraps around hair strands with a lightweight veil of UV protection and moisture. It is designed to be used during the conditioning process as a color-hold and moisture amplifier, or on damp hair as a leave-in treatment to protect color treatments and boost radiance. Clinically proven to maintain color vibrancy and shine for up to 70 days. *
The Dual-Use Serum Hero: World-class traveler who loves to explore new sights and climates whether for business or pleasure.
Reach for this "Hero" when: You want to ensure that your beloved hair color can stand the test of any climate or travel duration. Don't waste miles on greys or color fades, insure hair is UV protected and boosting with radiance worldwide.
*Based on a clinical study with use of CAVIAR Infinite Color Hold Shampoo, Conditioner & Dual-Use Serum vs. untreated hair
September
CAVIAR Anti-Aging Smoothing Anti-Frizz Blowout Butter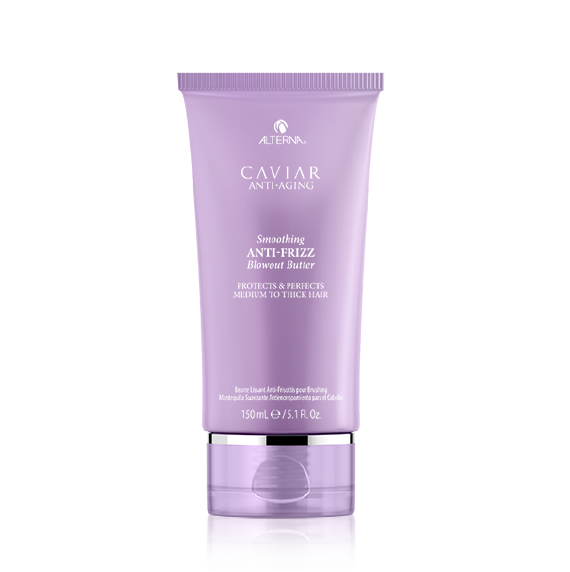 What it Does: Tame coarse, defiant and frizzy hair with this lightweight crème-to-oil formula! Smoothing Anti-Frizz Blowout Butter protects hair from humidity and heat-styling while sealing in moisture, shine and smoothness. Clinically proven to provide over 80% less frizz in hair for up to 72 hours.* While reducing blow-dry time by 40% and providing heat protection up to 450°F/232°C.** With the help of an exclusive Climate Shield Complex Smoothing Anti-Frizz Blowout Butter helps to protect against humidity affecting hair.
The Anti-Frizz Hero: A busy, urban young professional who's calendar is full of "firsts" from first dates to their first day at the new firm...
Reach for this "Hero" when: Seeking the little black dress of styling products... the "first impression maker" that you can rely on for a sleek, smooth and perfect hair occassion.
*Based on a clinical study, with use of CAVIAR Anti-Aging Smoothing Anti-Frizz Shampoo, Conditioner & Blowout Butter
** Based on a clinical study vs. untreated hair