7 Tips for Gray Hair Care
Jun 30, 2021
There are few things that sound as scary as transitioning to gray hair, but it doesn't have to be scary at all. Getting gray hair is one of those inevitabilities of life (like death and taxes). So the best move is to learn to embrace it and also experiment with some natural gray hair styles as well as use the right products: masque, conditioner and shampoo for gray hair.

Speaking of haircare products, if you need a comprehensive haircare product plan, check out our Hair Quiz that will customize a whole product line just for you based on your hair style, condition, etc.

Before we dive into new tips and routines, it'd be useful to mention what causes gray hair in the first place.
Why Does Hair Turn Gray?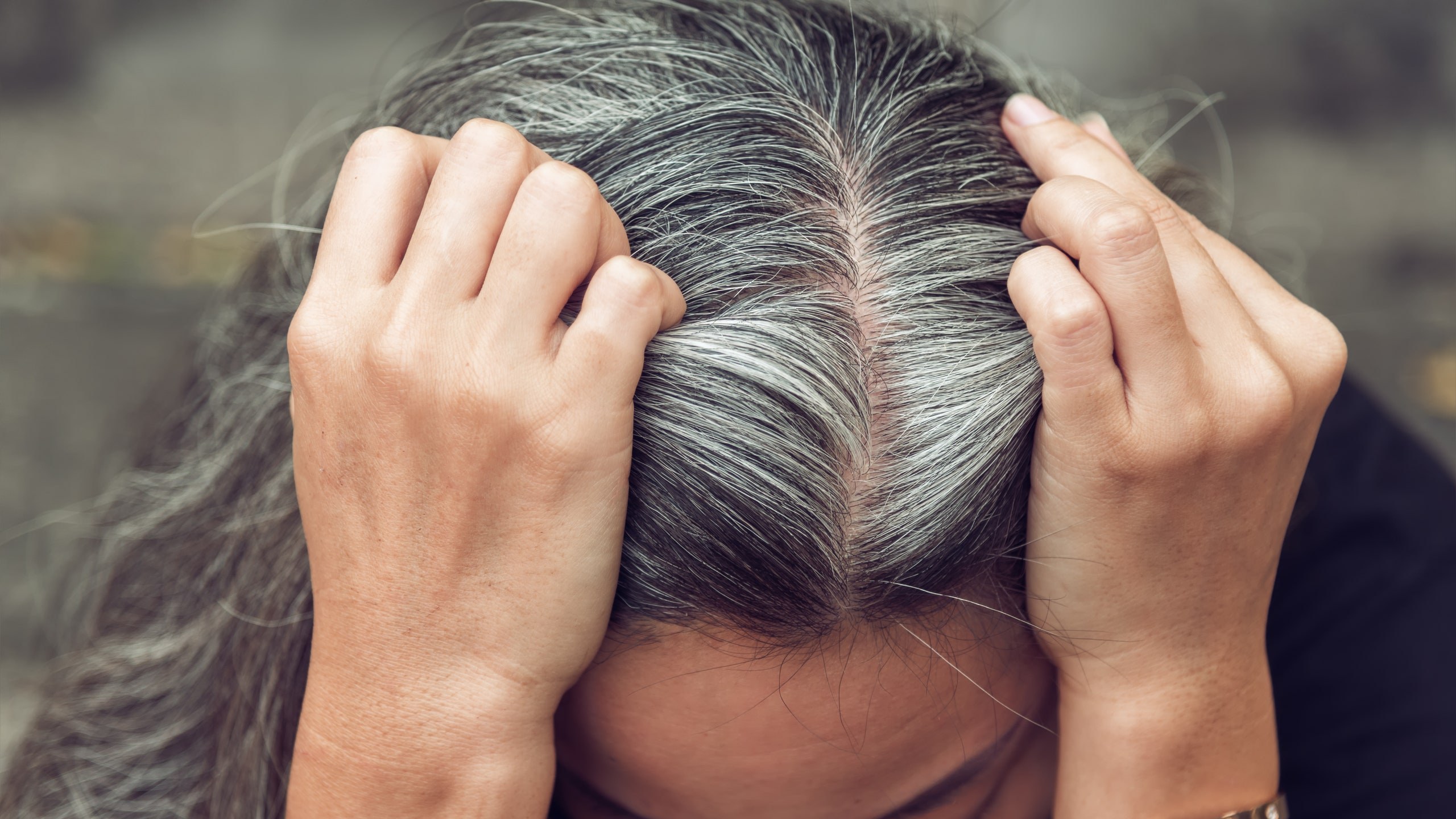 Described simply, the process of going gray starts when melanocytes, your melanin-producing cells that are responsible for the pigmentation of your hair, stop creating more melanin and all their stock gets depleted.

The reason behind graying hair is largely determined by genetics. But stress also seems to be a major factor.

Once the graying process starts, it's impossible to reverse. However, using folic acid could slow down the speed at which you go gray, and adding antioxidants to your haircare routine can protect melanocyte cells that are still active.

Transitioning to gray hair is another issue that worries many. If your hair is naturally blonde, it's a little easier, since you can introduce strategic highlights and part your natural hair to blend in with your blond.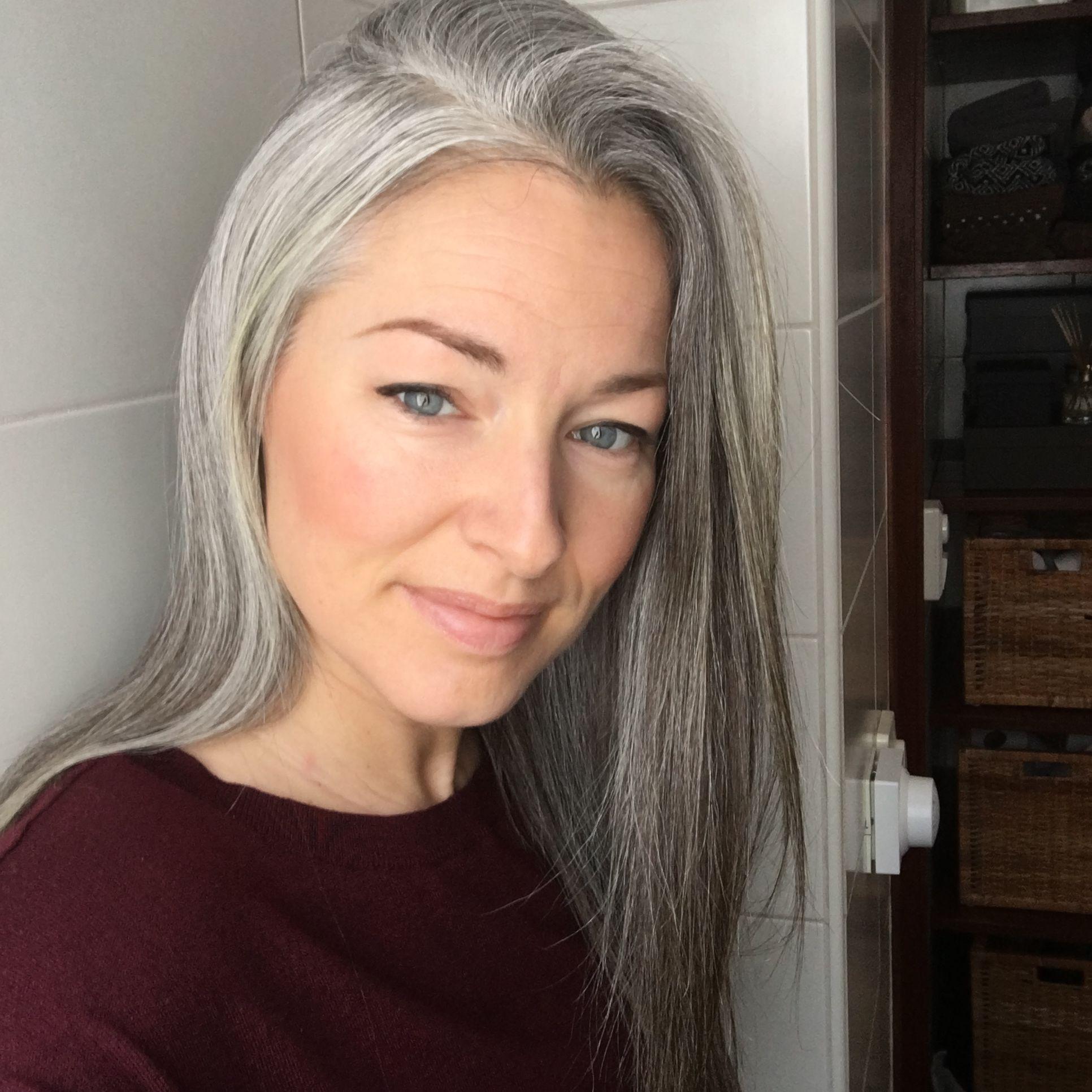 For brunettes, it's a bit more tricky. A good way out is to color your roots within one or two shades of your natural color and use a root concealer until the dyed color has grown out. Another option is to have a professional stylist remove the dyed color from your hair using a lightener and toning it to the color of your natural grey hair. This may take a few times for it to completely blend, but the results will be great and you'll have your own natural grey hair color in no time.

The easiest way to transition to gray is to simply cut your hair short and let it naturally grow out, although that's not for everyone!
How to Care for Gray Hair
Once you embrace your gray hair, you might find that caring for it is not that difficult, although you do have to change your routine somewhat.

Here are a few gray hair care tips we can highly recommend.
1. Experiment with different cuts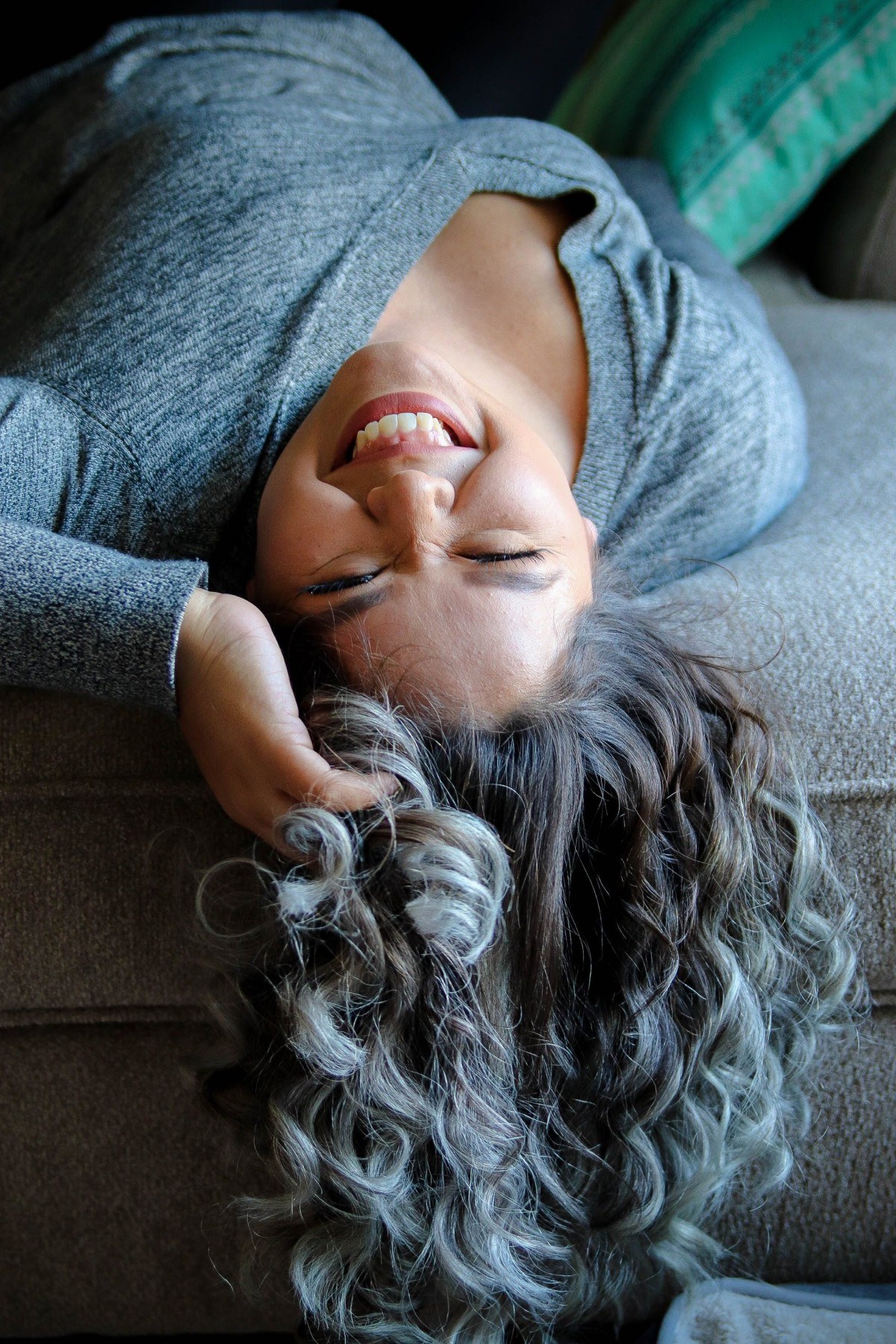 When your hair goes gray, the shape and texture of your haircut simply start to matter so much more.

Worn well, gray hair can exude a lot of sophistication. So work with your stylist to try a few shapes that would elevate your natural texture.

2. Keep your hair nourished
Sadly, graying hair doesn't just come on its own — it's often accompanied by some hair loss and general hair thinning as well.

So it's more important than ever to ensure you're consuming the right vitamins and minerals as supplements, even if you already have a healthy diet. Talk to your doctor about which supplements would stimulate hair growth and work best for you.
3. Get the right haircare products
We asked Paul, our Global Education Manager, what are his suggestions for haircare when it comes to gray hair. He said, "The best suggestion I have for gray hair is to use Alterna's Replenishing Moisture Line, specifically a Caviar Anti-Aging Replenishing Moisture Shampoo, Conditioner and Masque."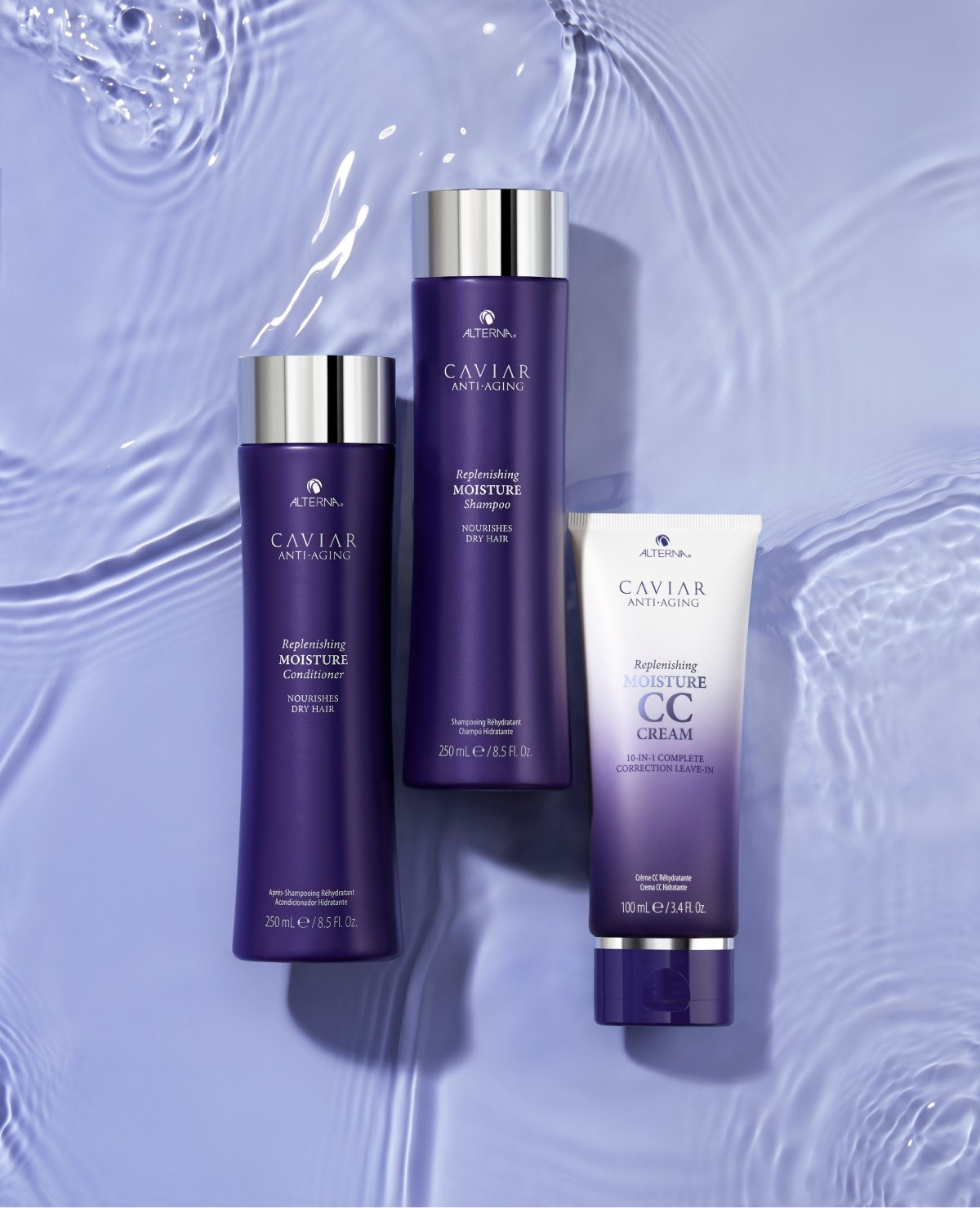 Another problem that often affects gray hair has to do with how porous it is, which makes it especially susceptible to contaminants and can eventually result in it having a yellowish tone.

Whenever you notice that your hair is becoming dull or yellow, it's important to use a special shampoo that would tone your gray hair for a shinier finish.

For styling your gray hair, try Alterna's Caviar Anti-Aging Replenishing Moisture CC Cream and Priming Leave-in Conditioner.

4. Protect your hair from the sun
If you didn't know, it might come as a surprise, but gray hair burns quite easily in the sun, turning it a bit yellow, which might take months to correct.

That's why it's important to cover your hair with a hat outdoors and preferably braid it and tuck it under the hat as well.
5. Work with your natural texture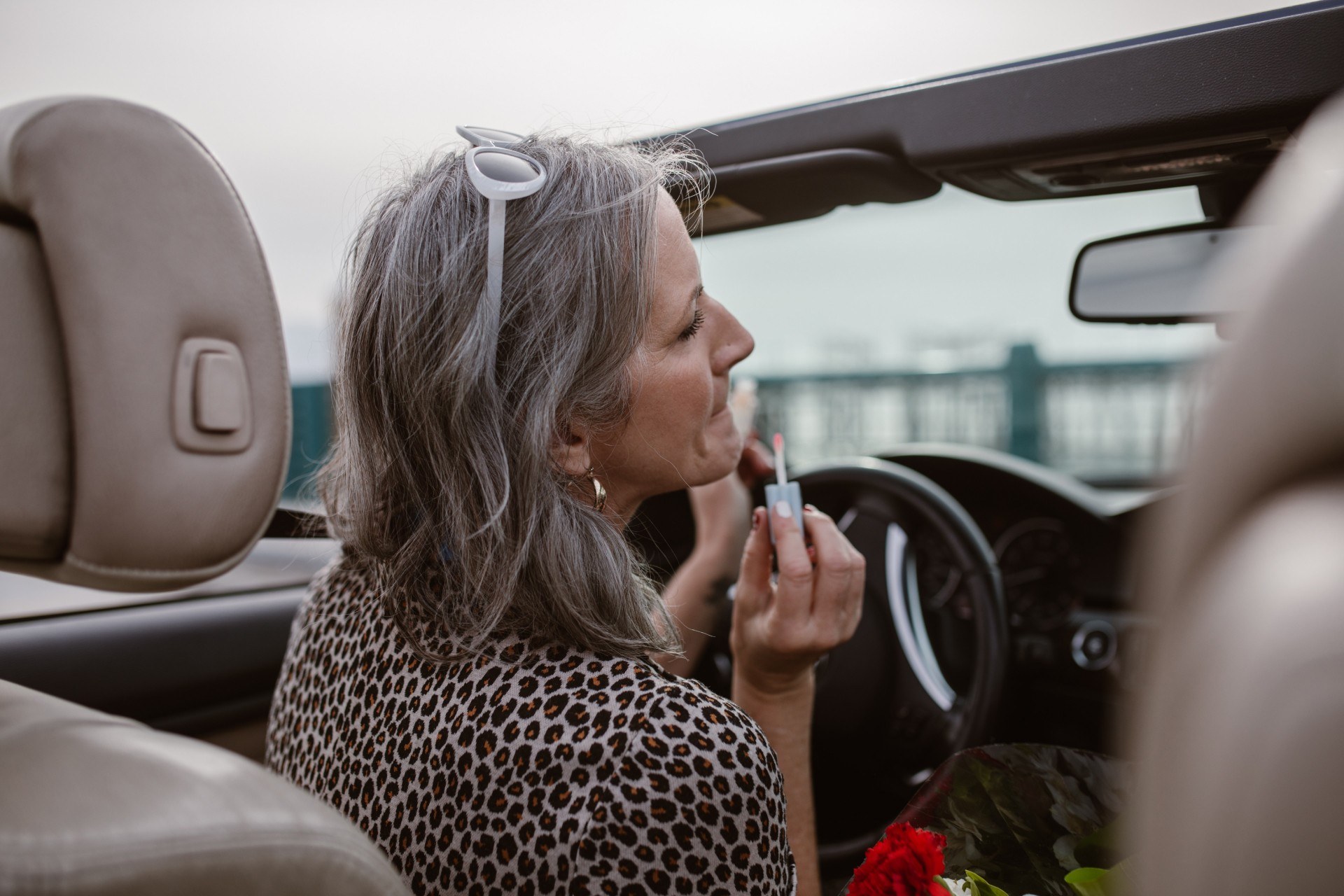 Speaking of texture, when your hair turns gray, your texture will differ as well, becoming more brittle, dry and frizzy. It could become more coarse too.

But it's not all bad news. Natural gray hair can glisten and shine in a way that processed hair simply does not. If you care for it, it will be shiny, healthy and beautiful.
6. Avoid hot styling tools
Due to its unique texture, gray hair burns much more easily when using hot tools as well. So make sure to control the temperature, not exceed 350 ºF and not spend too much time on any given area. Also, be sure to use a great heat protection prior to using any hot tools. A great one is Caviar Anti-Aging Professional Styling Perfect Iron Spray.
7. Use satin pillows
Finally, you should definitely think about taking care of your gray hair at night. Wearing your hair in a topknot, for example, would decrease pulling.

Another tip is to get a satin pillowcase, which ensures less friction and protects your hair from breakage.

Following the seven tips above is a great way to start properly caring about your gray hair, so it remains healthy and nourished for years to come.