8 Comfy Loungewear Brands We Love
Dec 23, 2020
While our wardrobes are full of street and formal wear, 9 out of 10 times what we actually want to put on in the morning is something cozy and comfortable, something that would be a pleasure to spend a whole day working from home in. In other words — loungewear.

At the same time, we still do have to hop on Zoom calls and be presentable. Plus, wearing clothes that not only feel good but are also stylish could actually help us get into the work mood easier. So what should your outfit look like?

To give you some inspiration, we've decided to highlight the best loungewear brands and lounge outfits that we've come across lately. Feel free to get a matching lounge set of your liking or mix a few pieces together as you see fit — comfort and style guaranteed.
Sweats from Entireworld
Started by the industry veteran designer of Band of Outsiders, Scott Sternberg, Entireworld focuses solely on the daily basics, presenting both mens and ladies loungewear.

We particularly like Entireworld's Loop Back loungewear sets made of soft and lightweight Japanese French terry with some recycled polyester added to help with shrinkage and express a vintage vibe. This is some cute loungewear you'll feel stylish and comfortable wearing all year round.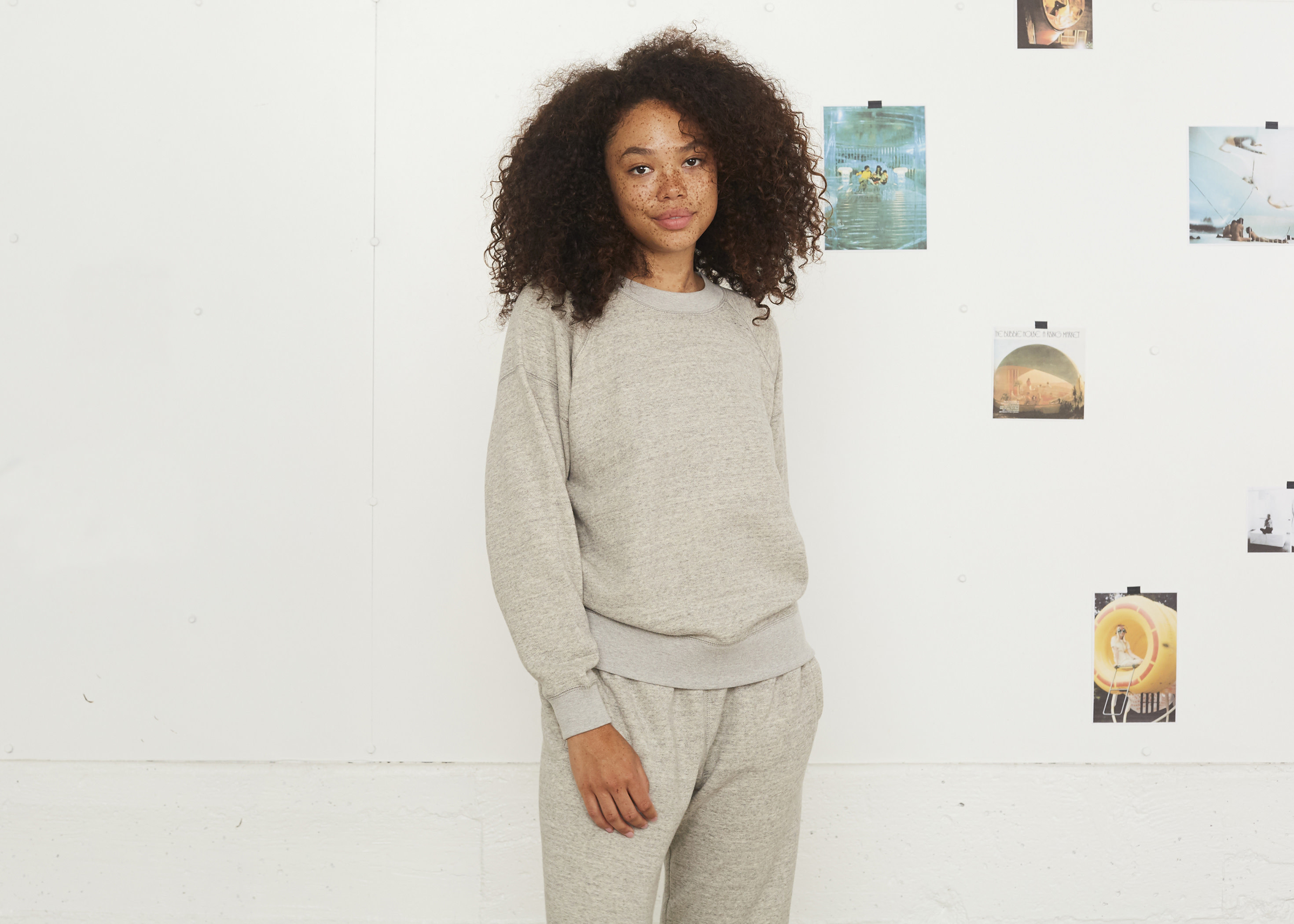 If you need to pop out to pick up groceries or just go outside, feel free to complement your matching lounge set with white sneakers and a leather jacket for a complete look.
Athleisure from Lululemon
If you start your mornings with a quick yoga practice and generally love the idea of not feeling your clothes at all, you should take a look at the extensive leggings collection from Lululemon.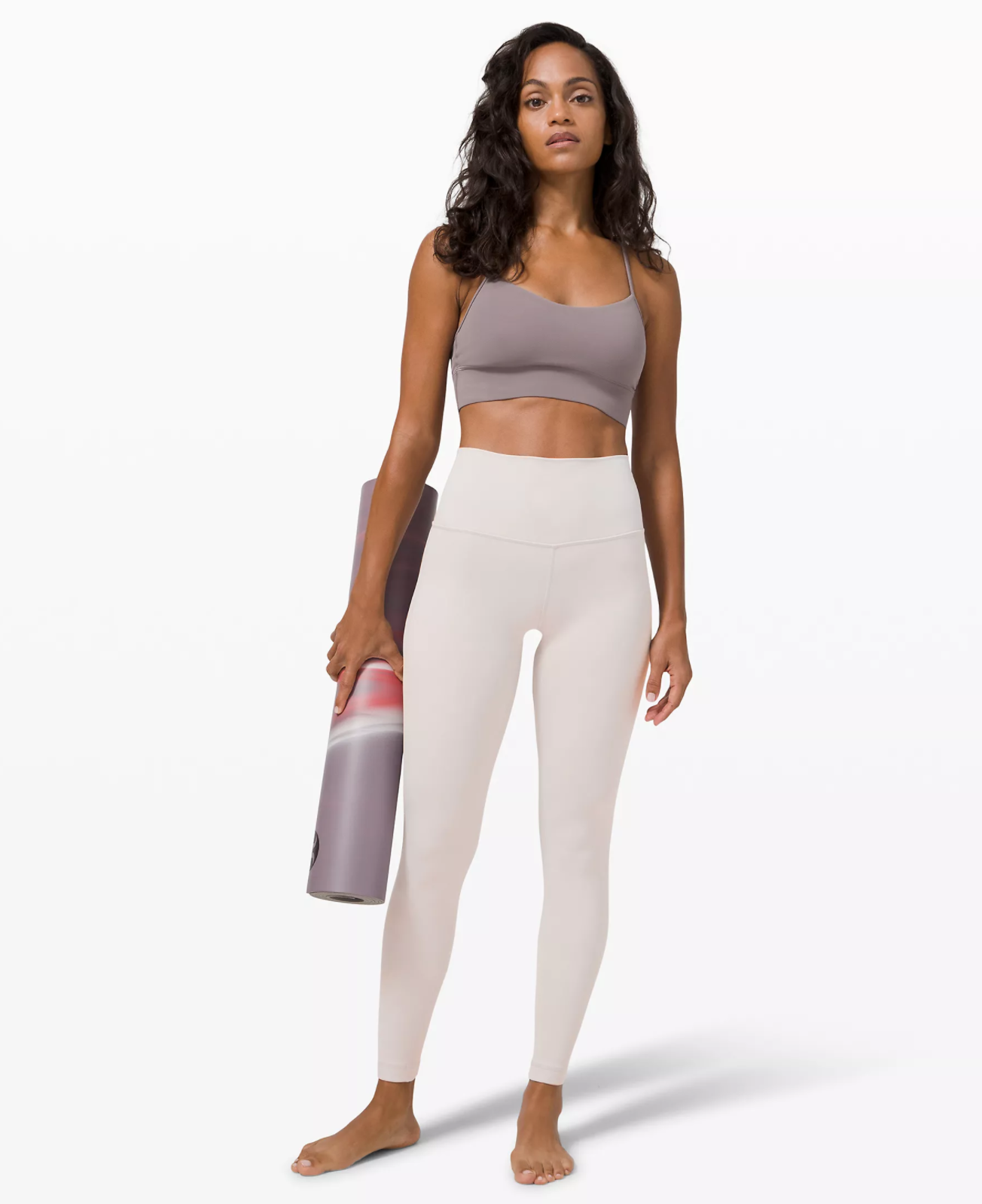 Our go-to here is the Align collection, which feels soft and weightless thanks to the proprietary four-way stretch Nulu fabric. The pants come in a wild variety of colors to suit every wardrobe and have a high rise to give you a complete freedom of movement. And they look just as good out on the street too.
Jumpsuits from Brooklinen
You might know Brooklinen as a mega popular bed sheet brand. But their womens and mens loungewear is not-to-miss! In particular, we're really into the Adelphi Jumpsuit.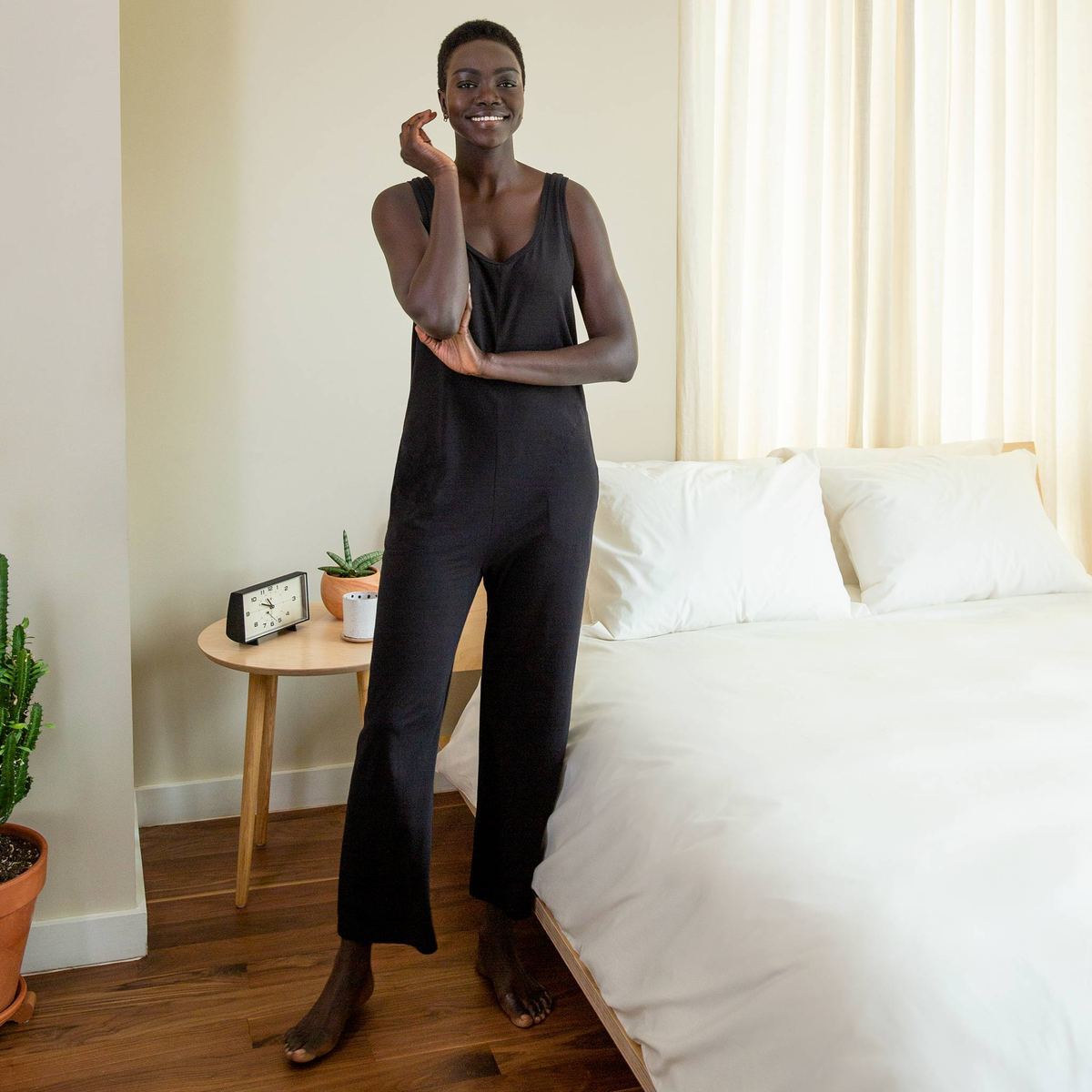 Made as a single piece of clothing out of ultrasoft jersey, Adelphi is the loungewear women should be dreaming of. A wide cut doesn't restrict your movement, looks chic and can be dressed up or down depending on the occasion. And there are pockets too!
Short Sleep Sets from Printfresh
Feel a bit tired of monochrome palettes and solid colors? Then look no further than amazing and colorful women's loungewear sets from Printfresh.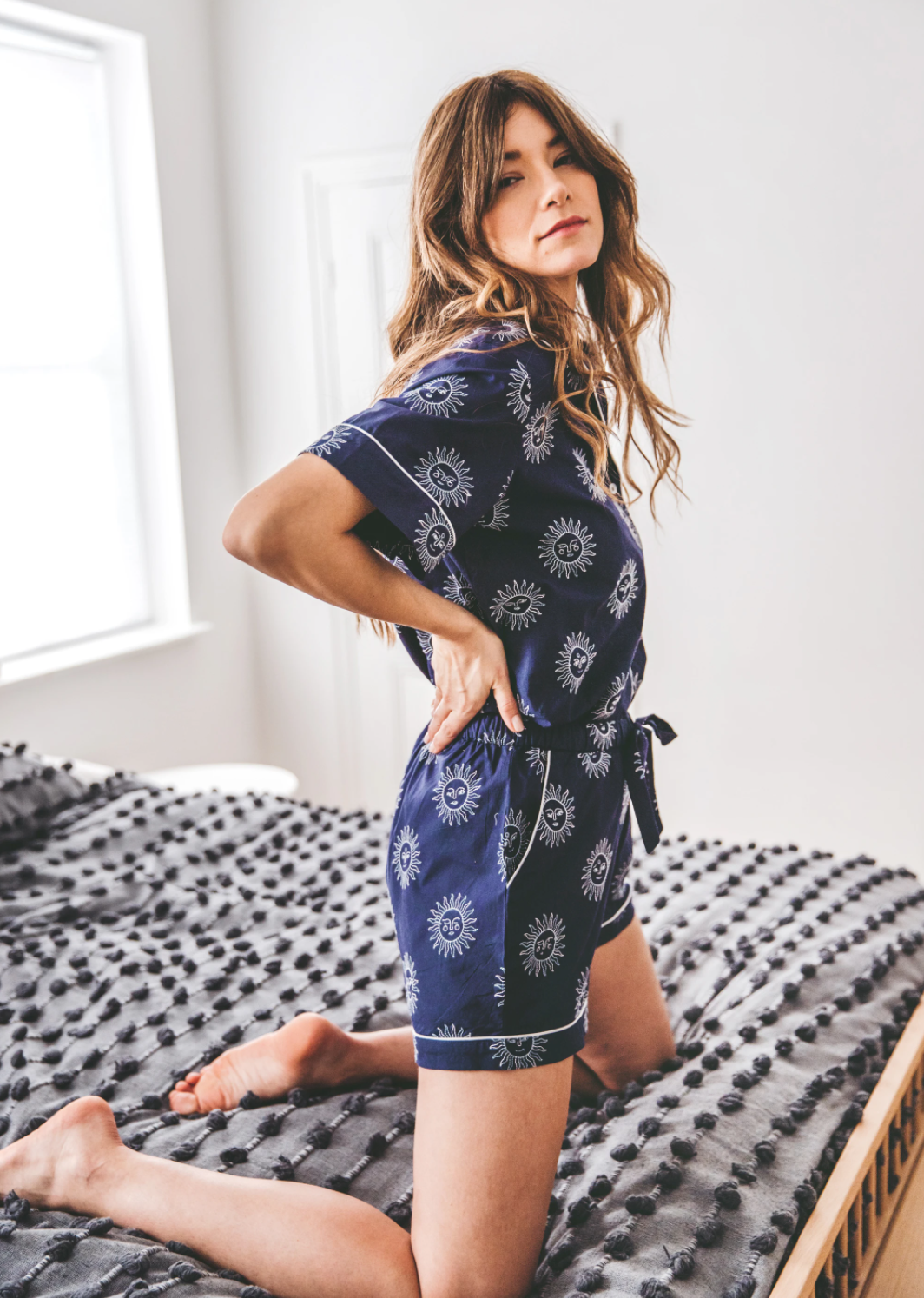 Available in both short and long variations, Printfresh's sets will accompany you throughout the year. Sewn from a lightweight, breathable 100% cotton poplin that's been handprinted by artisans in India, these outfits will instantly become your around-the-house classic and, even better, get softer with every wash.
Washable Silk Pants from Lunya
Is there anything more luxurious than walking around in silk all day? Historically, silk hasn't been the most easy-to-care-for fabric and going to the dry cleaner is probably the last thing you want to do right now.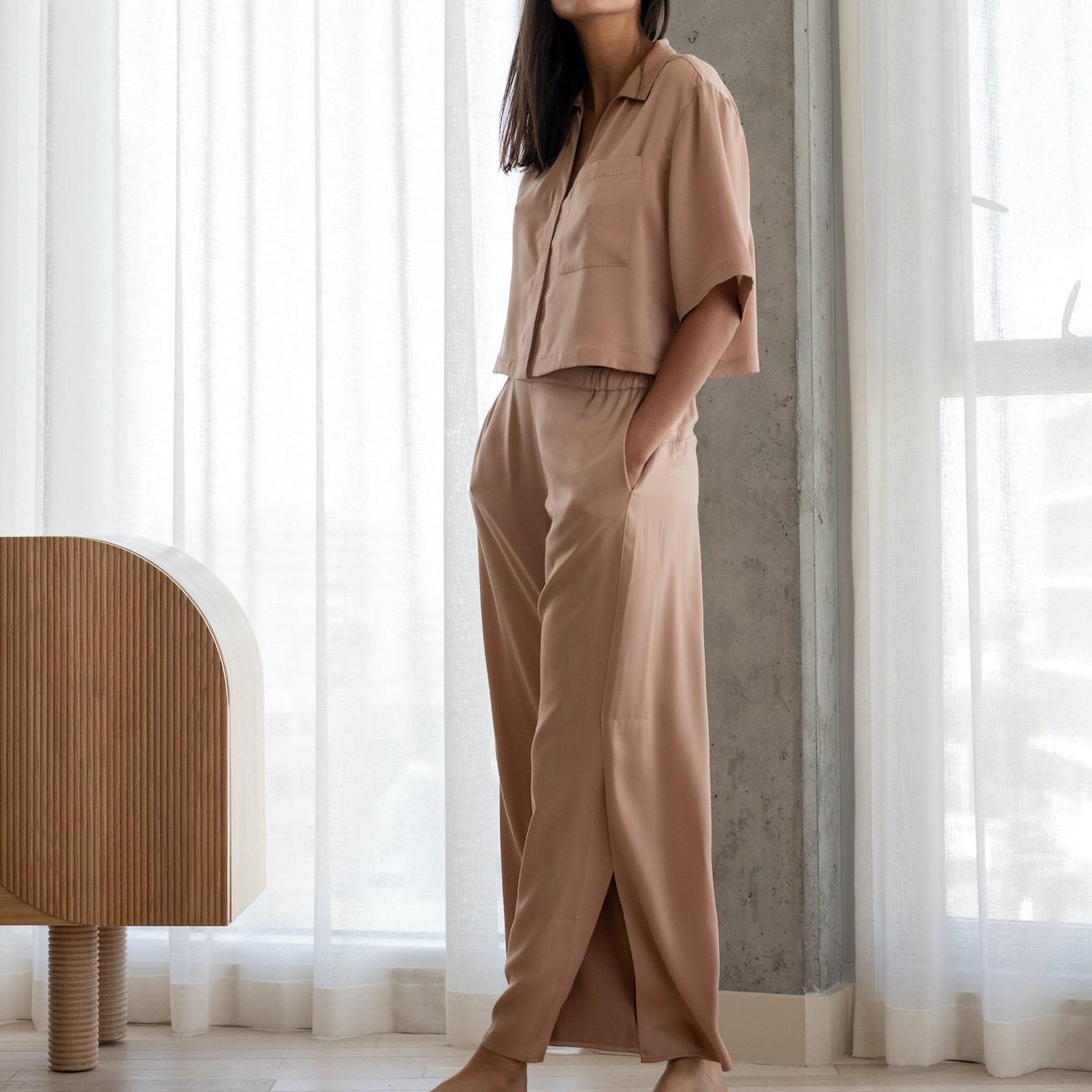 That's why new cute loungewear sets from Lunya are so attractive. Made from 100% washable silk, these pants and shirts can be thrown right in the washing machine with zero worries. We really love the flat front waist on the pants and elongated arm length on the shirts with the cropped waist at the same time. To sum up, easy, comfortable and stylish — all in one.
Cashmere from Leimere and NakedCashmere
If you prefer softer fabrics to silk, don't forget about cashmere. While cashmere has always been quite expensive, the current explosion of affordable (but at the same time sustainable) cashmere brands have made comfy cashmere lounge outfits accessible to all.

Start with the Leimere Gramercy Utility Jogger that are just as perfect for running errands as they are for getting through the work day at home. Made from the cashmere-nylon-cotton-modal blend, these pants are also machine-washable for easy care.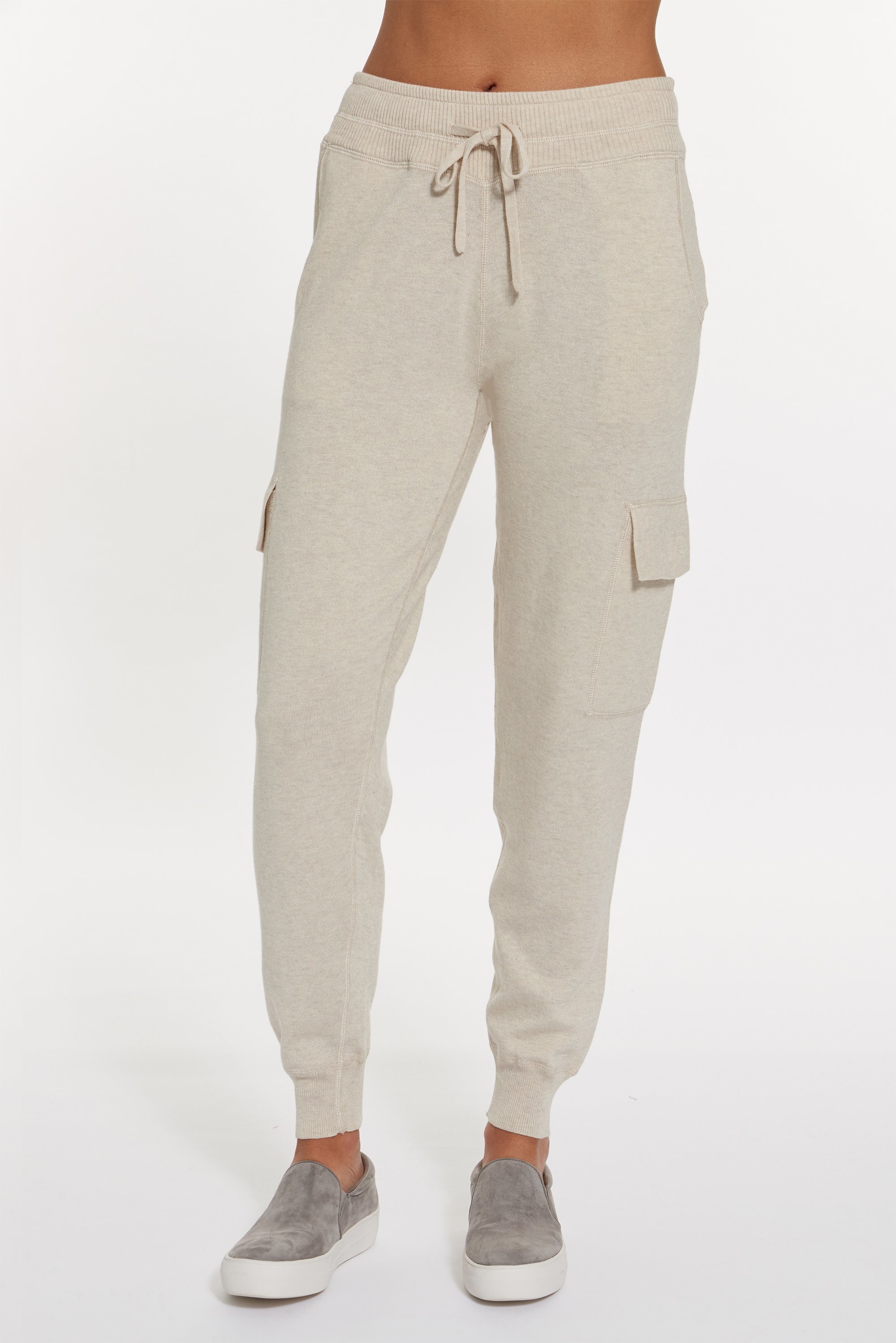 Another one of our favorite cashmere brands is NakedCashmere. Their Kaia crew pullover made from 100% cashmere has an ultra-relaxed and comfy fit, and is so soft you'll feel like you're wrapped in a cloud.

Styling cashmere is also easy — just put on a denim jacket and a pair of Converse to balance out the textures and you'll look great anywhere.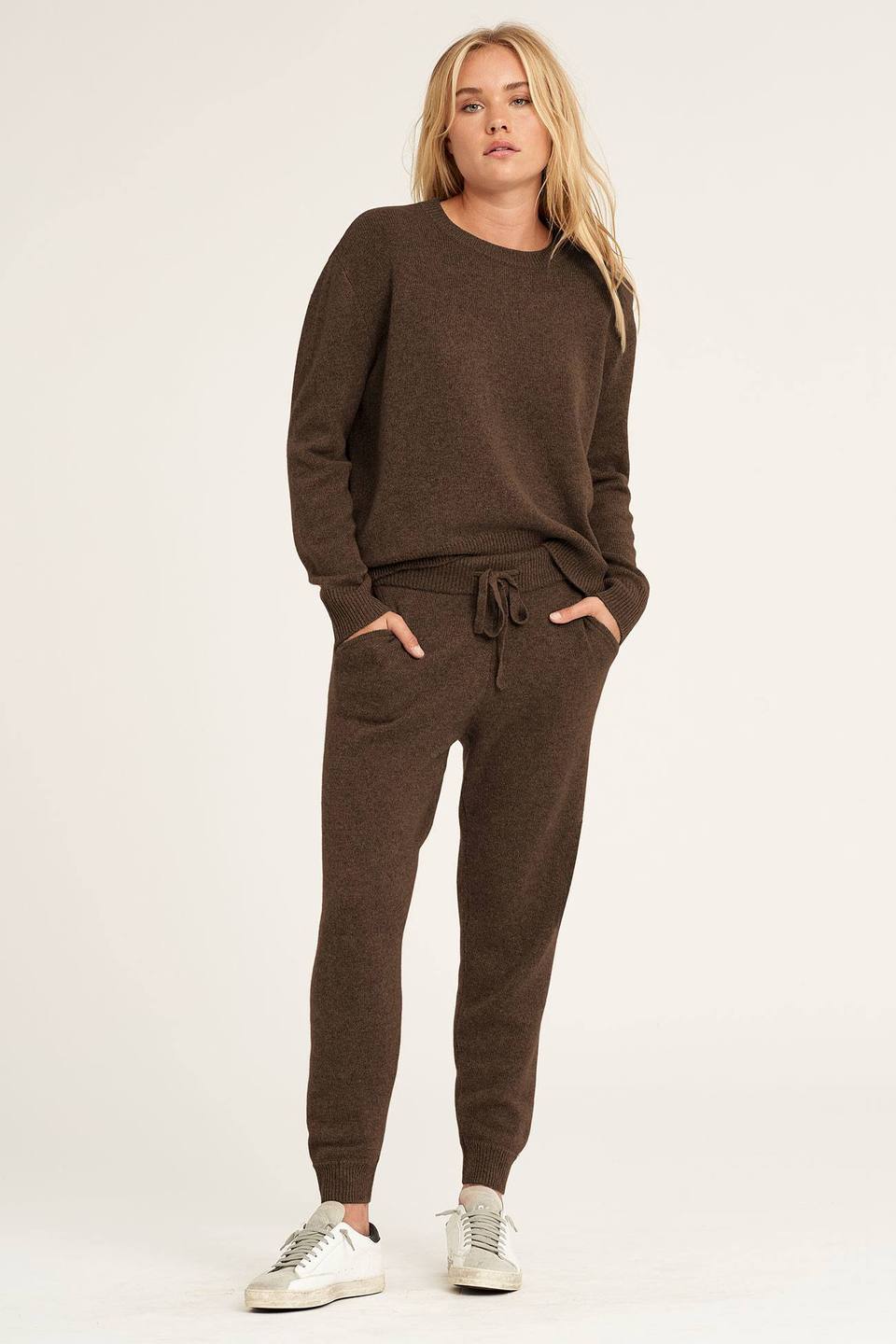 Dyed T-Shirts from Softwear
When it comes to the best loungewear, it's never too late to return to the classic tee, made with a twist. A collection of hand-dyed t-shirts from Software is the perfect choice.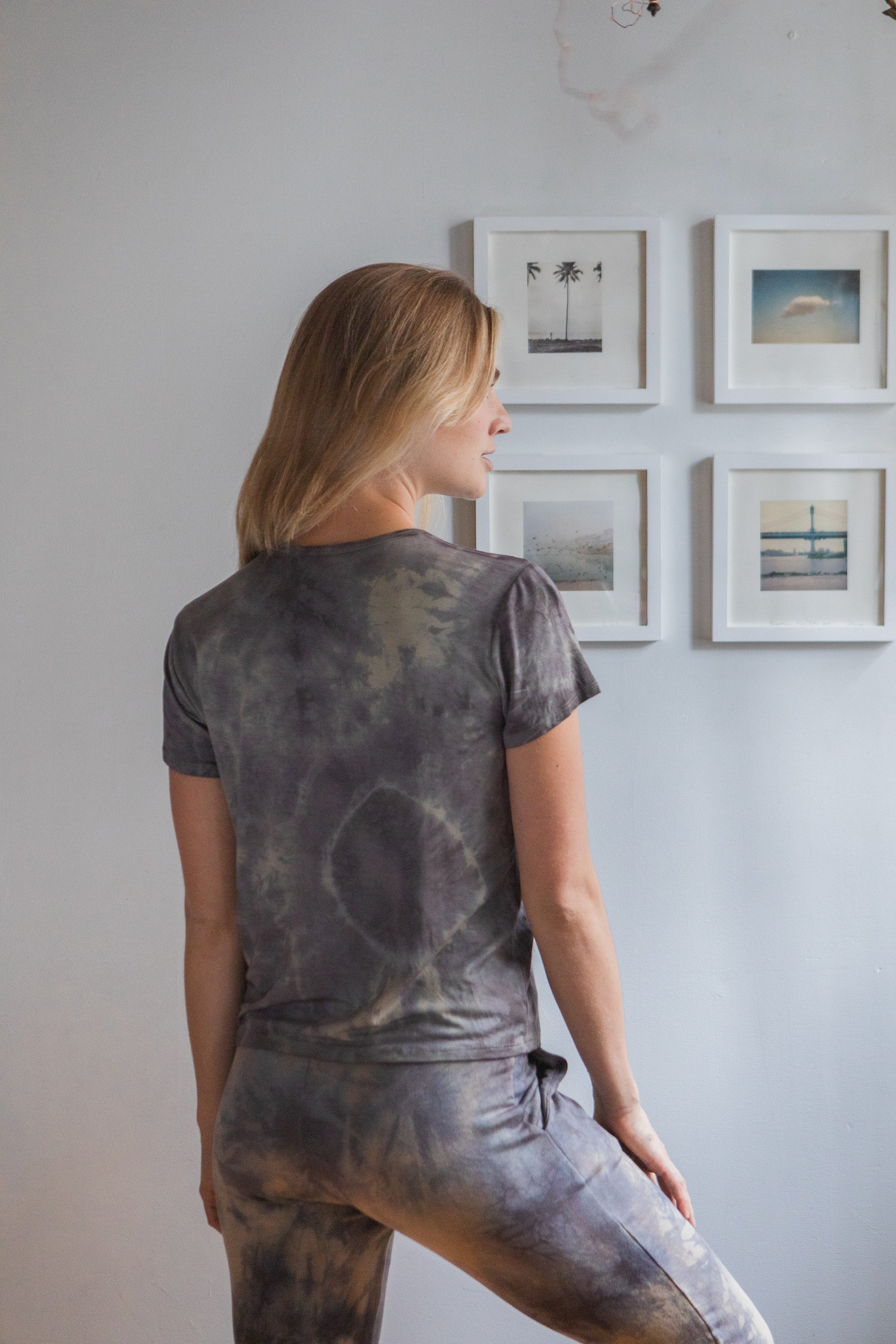 Dubbed as the softest t-shirt you'll ever wear thanks to the French terry of the highest quality, this unique-to-you article has a tailored fit, is pilling-resistant and will retain its shape for a long time.


As you can see, there are lots of loungewear brands to explore, from casual sweatpants to elevated washable silk. This means that getting your ideal matching lounge set has never been so easy! So order a few pieces and then mix-and-match to your liking to look elegant and comfortable wherever you go.