CAVIAR Anti-Aging Multiplying Volume Collection
Feb 27, 2019
Whether it is hair, skin, lips or muscles, most of us are always looking for ways to plump it up. From fillers, to non-invasive lip and skin plumpers, the skincare market is saturated with products to cultivate more youthful, filled-out faces. As we age, our hair takes a hit, too. It loses volume, thickness, shine to name a few. The appropriate products, however, can give limp hair just the lift it needs...

Enter ALTERNA CAVIAR Anti-Aging Multiplying Volume, inspired by skin-plumping technology that nourishes and restores natural fullness for a supremely voluminous finish. In terms of anti-aging, skin-nurturing ingredients, brands have looked to the sea and its nutrient-rich ingredients to promote youthful, plump appearances for quite some time. Drawing from the results seen in skin, ALTERNA harnessed the elements of the sea to create the brand's original luxury haircare collection inspired by skin-plumping technology. Infused with Marine Plumping Complex, the regimen is sure to thicken and lift fine hair. Marine Plumping Complex is a blend of naturally volumizing extracts including Sea Kelp, Keratin, Panthenol and Biotin. Sea Kelp creates a lightweight wrap around each strand to plump and retain moisture, while Keratin, Panthenol and Biotin fortify and strengthen the natural structure of the hair strand.
Now, we present the plumping product parade.
Multiplying Volume Shampoo and Conditioner:
This lightweight duo cleanses as it helps thicken hair from root to tip. Free from sulfates, the formula helps hair retain light moisture and leaves strands with a healthy-looking sheen. These products are gentle enough to use daily and proven to instantly deliver more fullness and volume, when used together as a regimen, versus untreated hair.
Multiplying Volume Styling Mousse:
Many people believe mousse is mousse when it comes to use and application, but here at ALTERNA not all mousses are created equal. Thanks to its royal ingredients, like Caviar and magnificent Marine Botanicals, this product promises to thicken and strengthen your hair while giving you light hold and control to create lift and volume.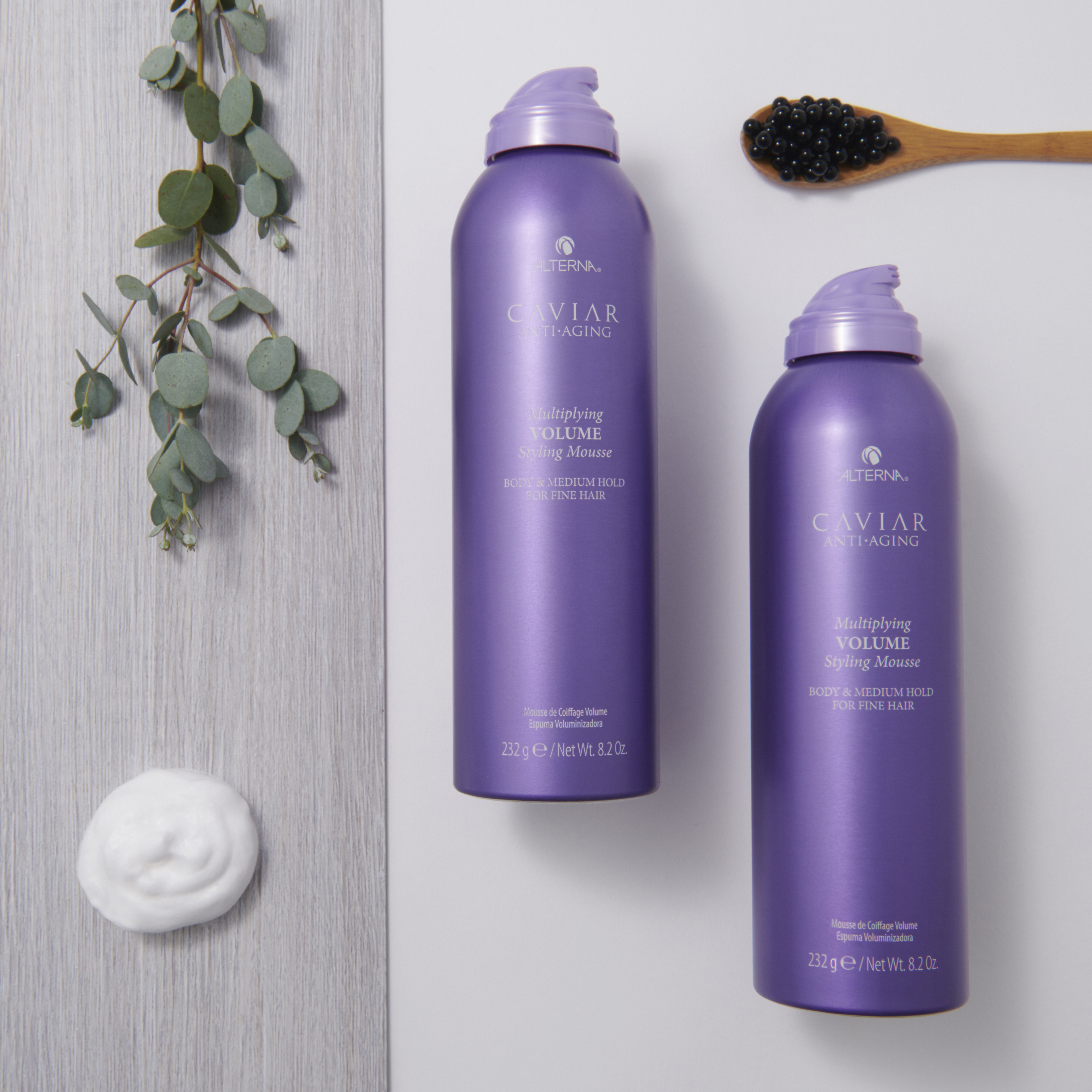 Multiplying Volume Styling Mist:
She multi-tasks! This styling mist is applied to towel dried hair to work double duty as a treatment and a styler. As a treatment, it nourishes, replenishes and preserves the integrity and health of the hair strands. The Multiplying Volume Styling Mist also creates lasting volume from the roots to the ends with a touchably soft feel for a perfect, flawless finish.
Just as we have learned the importance of bringing our anti-aging skincare routines down to the décolletage, it's time to bring it up to the hair!