CAVIAR Anti-Aging Smoothing Anti-Frizz Collection
Jan 17, 2019
Plenty of people battle frizz, daily. A fight that is seemingly never-ending. They go on tireless searches for the perfect product concoctions. In order to know how to combat frizz, it helps to know what causes it.
Frizz occurs due to a lack of moisture in the hair. This causes the hair to search for hydration from the air around it. (Makes sense that humidity makes it worse.) While there are some unavoidable causes like weather, there are many steps you can take to regain control and fight the good fight against frizz.
Turn down the temperature and time in the shower. Hotter water and longer showers can strip your hair of natural oils that help hydrate hair.
Don't shampoo too often. The chemicals in shampoo can dry out hair and strip natural moisture. It is recommended to shampoo 1-3 times a week if you have dry, frizzy hair.
Heat-style with caution. Blow-dryers, flat irons and curling irons can wreak havoc on your hair.
Don't rough the cuticle, especially while towel drying hair.
Steps alone, however, cannot conquer the condition. The right range of products are also essential to succeed in the struggle. ALTERNA's CAVIAR Anti-Aging Smoothing Anti-Frizz Collection contains an exclusive Climate Shield Complex, a proprietary technology that controls the level of moisture that the hair accepts from the surrounding environment, to help keep strands smooth, soft and less frizzy for up to 72 hours. A combination of Camellia Oil, Avocado Oil and Abyssinian Oil attack the frizz in three unique ways. First, Camellia Oil absorbs deeply into the hair to hydrate from the inside out. Next, Avocado Oli's saturated fatty acids help smooth down the cuticle layer, preventing it from allowing humidity inside. Finally, Abyssinian Oil remains on the exterior of the strand acting as a protective barrier to humidity in the environment.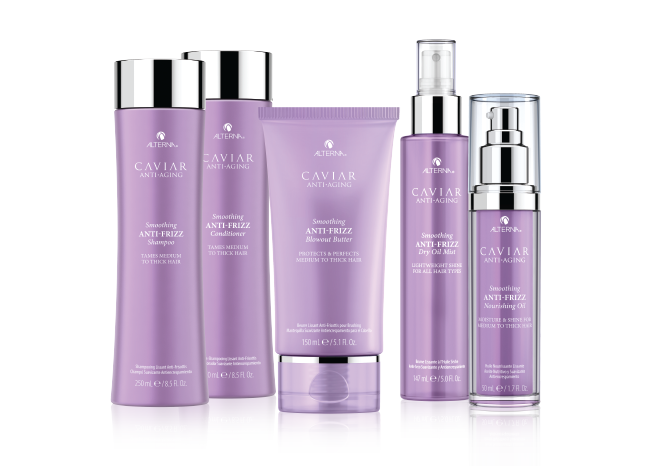 The Collection includes Shampoo and Conditioner, Nourishing Oil, Dry Oil Mist and Blowout Butter. The strength and nourishment in this regimen will tame even the most tumultuous tresses. Begin by shampooing and conditioning but remember, not daily. High frequency shampooing can cause moisture loss. Then, apply the Nourishing Oil to damp hair, focusing on mid-lengths and ends. When you need instant frizz and flyaway control and lasting moisture and shine (always, right?) spray Dry Oil Mist on damp or dry hair. Lastly, if you are going to heat-style turn to the melting crème-to-oil formula Blowout Butter to protect hair while sealing in moisture, shine and smoothness.