Elyse Nuttall on Her Summer Hair Care Routine
Aug 25, 2021
Alterna: Elyse (@elysenuttall) is a wonderful and stylish lifestyle content creator from California. Below, she shared her experience of adding My Hair. My Canvas. New Beginnings Exfoliating Cleanser and the Meltaway No-Rinse Micellar Hair Cleanser to her summer hair care routine. Check it out!

With summer in full effect you all are probably enjoying the long days, backyard barbecues and perfect pool weather. I know I sure am!
Summer is all about fun and sun, but more sun can lead to damaged hair! Whether from heat and humidity, or chlorine from the pool, it's important to take care of your locks and keep them nourished during the summer months.
Using vegan hair products that are lightweight and help cleanse and protect from the hot sun is crucial to keeping your hair looking both gorgeous and healthy. There are two products I've been loving and have added to my summer vegan hair care routine: My Hair. My Canvas. New Beginnings Exfoliating Cleanser and the Meltaway No-Rinse Micellar Hair Cleanser. Both natural hair cleansers are summer-approved and part of Alterna's new My Canvas. My Hair. line. They are 100% vegan, which is super important to me when I try to put together the best hair care routine out there.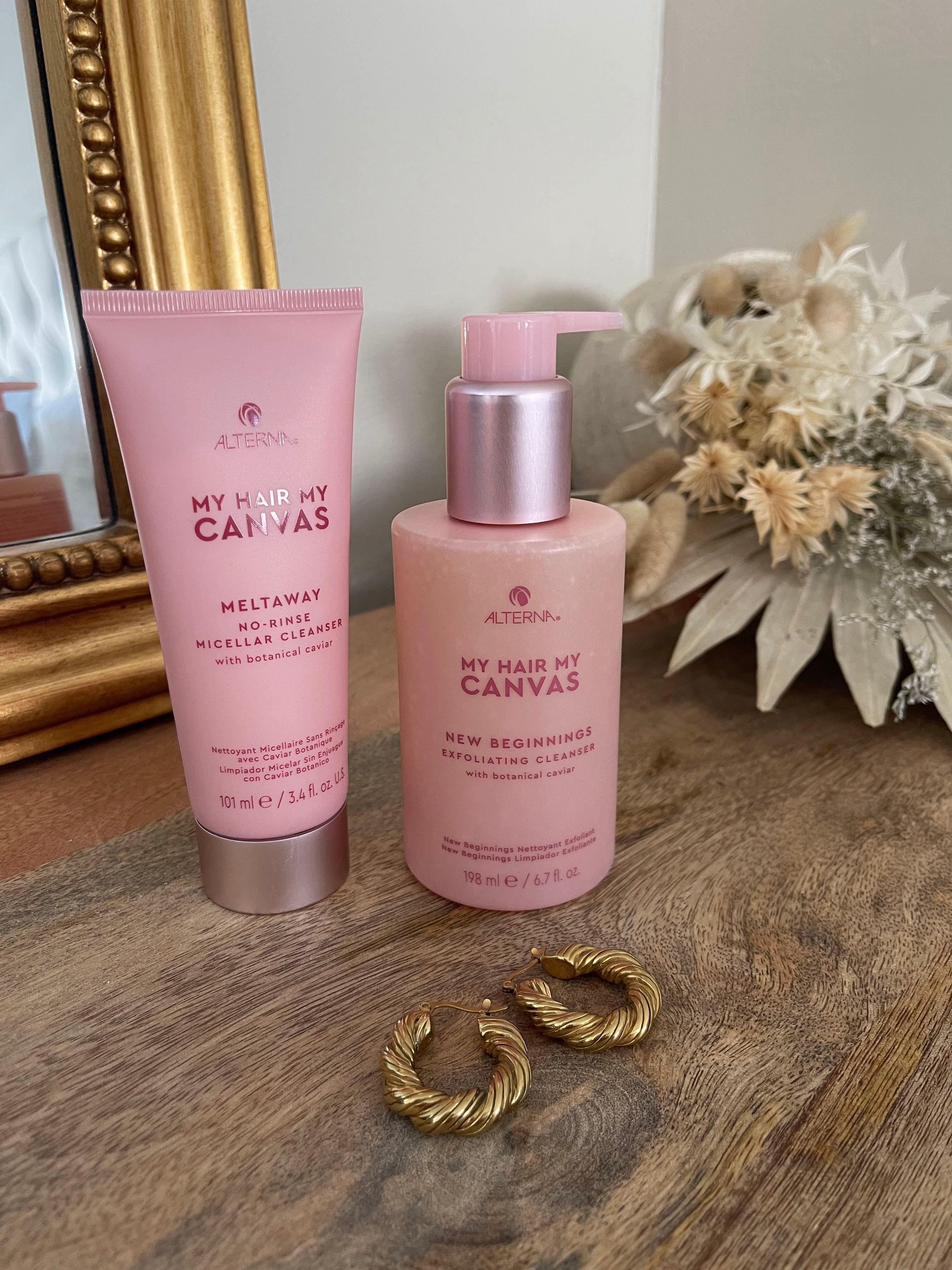 While nothing feels better than a dip in the pool or a swim in the ocean, chlorine and salt water can leave your hair dry, brittle and lackluster. Since hair naturally absorbs water, this means it will soak up chlorine and salt water, so it is important to immediately wash your hair after the pool or beach to prevent your locks from drying out.
Using the New Beginnings Exfoliating Cleanser is the perfect way to rid your hair of any build up or impurities, and leave it looking and feeling fresh and clean. It gently clarifies and cleanses the hair, while keeping it soft and manageable, without stripping any color. During the summer, my hair gets extra tangly and dry, but the New Beginnings Exfoliating Cleanser really helps to get rid of any build up from sweat or the pool.
Excessive heat on your hair is always a no-no, and washing your hair with hot water is no exception. While a hot shower may sound nice even after a day in the sun, rinsing your hair with cool water will help strengthen your strands and lock in that moisture. I always make sure to get a good cold rinse on my hair when washing it to make sure it's extra shiny!
One of the most common problems people face during summer is getting sweaty and oily roots from being out in the heat and humidity. I for one hate nothing more than having my hair feeling dirty or oily! As the days get hotter and I find myself sweatier, it can be tempting to wash my hair more often.
However, washing your hair too often can strip your strands of important oils that keep your hair healthy. Instead use the Meltaway No-Rinse Micellar Hair Cleanser in between washes to keep your hair feeling shower clean. This vegan creme-to-powder hair cleanser absorbs oil or sweat and helps break down products to make your hair feel clean and refreshed. It may not keep you from sweating all summer long, but it will keep your roots and hair looking fresh and healthy.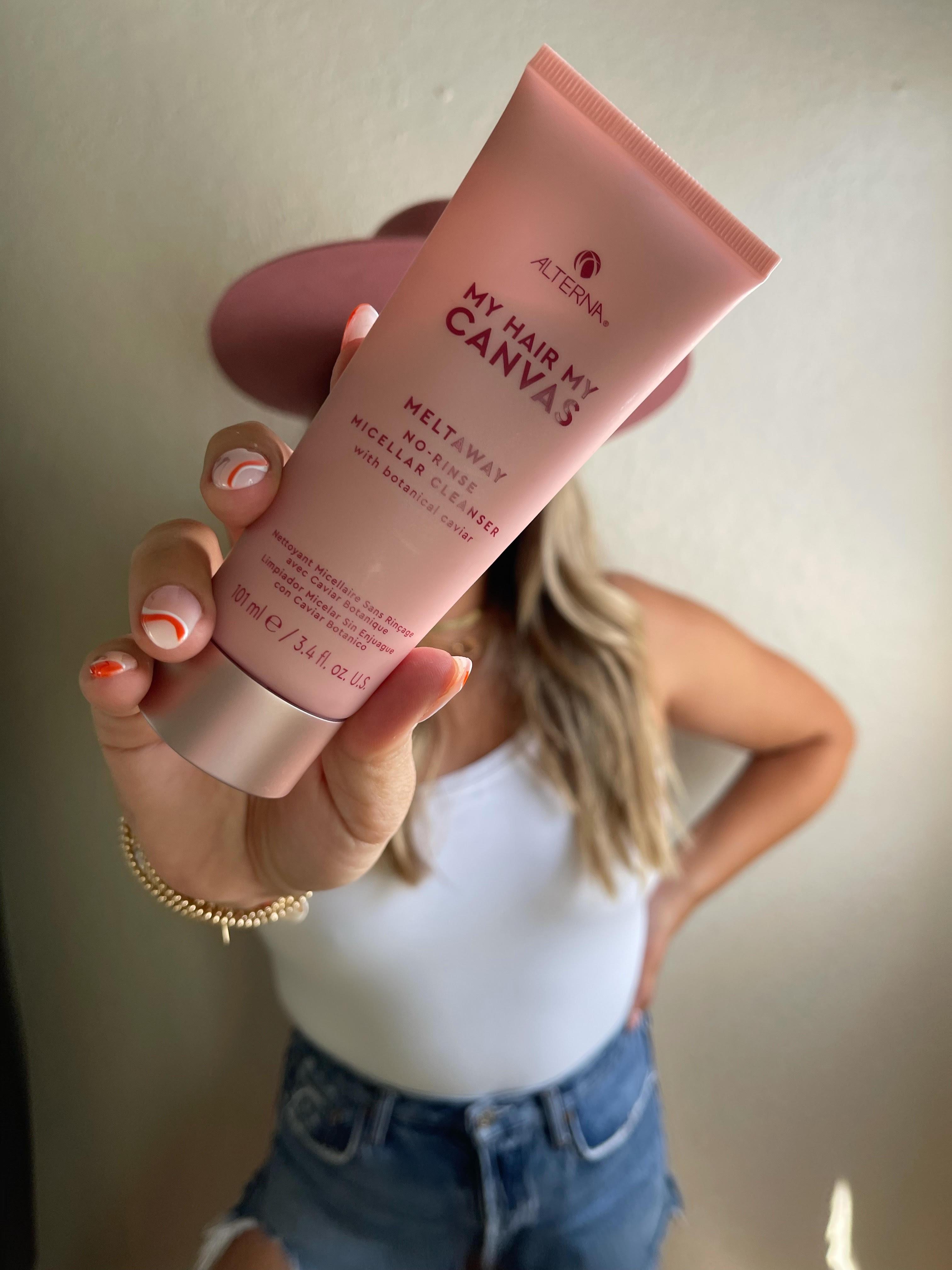 While summer is all about being carefree, it's important to keep your hair in mind and to protect it from the tangles and damage that come along with all of the summer fun. Make sure to implement a summer hair care routine to protect both your strands and style. Using these products will help you combat the hair dangers of excessive heat, chlorine, and salt water alike!
Not sure if these products are right for you? Alterna features a quick and simple Hair Quiz on their website that can design a complete hair treatment plan for you in just a few questions. Just give it a try!